Although our main products are Cooking Mixers, we also manufacture other food processing machines, such as horizontal mixer, steam jacketed kettle, and vacuum mixer machine. Our stirrers can be applied to cooking bean paste, data paste, sauce, curry, jam, jelly, peanut sugar, sesame sugar, sweets, minced meat, and soup at bakeries, restaurants, shops, schools, and food industrials, etc.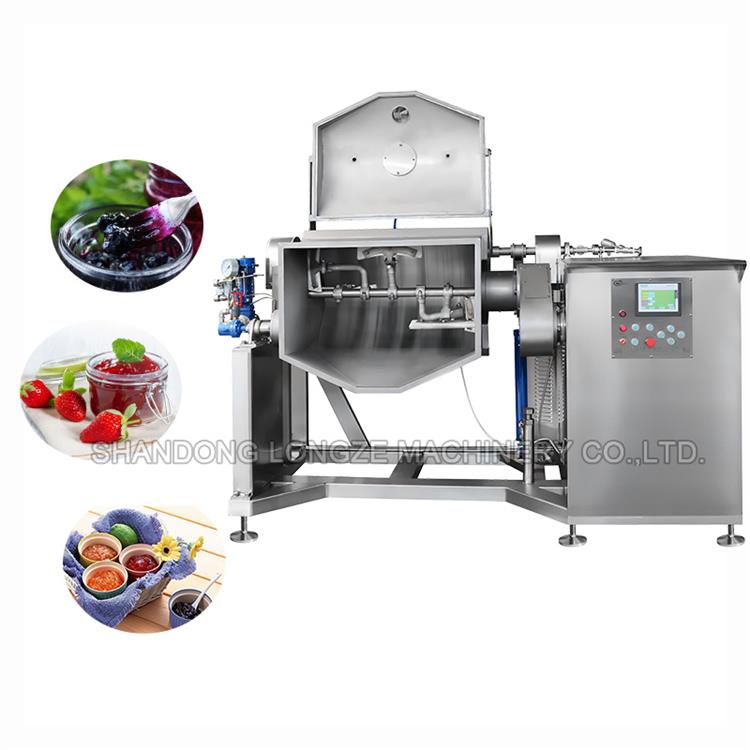 Horizontal Mixer Machine Applications
Can be used for Solid Food and Powder.FeaturesSuitable for Solid Food and Powder.Auto lifting cover, Auto tilting bowl.Horizontal Mixing Style.Two Mixing Arms can mix completely.Can do cooling during the mixing process (optional).Variable mixing speed.Clockwise and Anti-clockwise mixing system.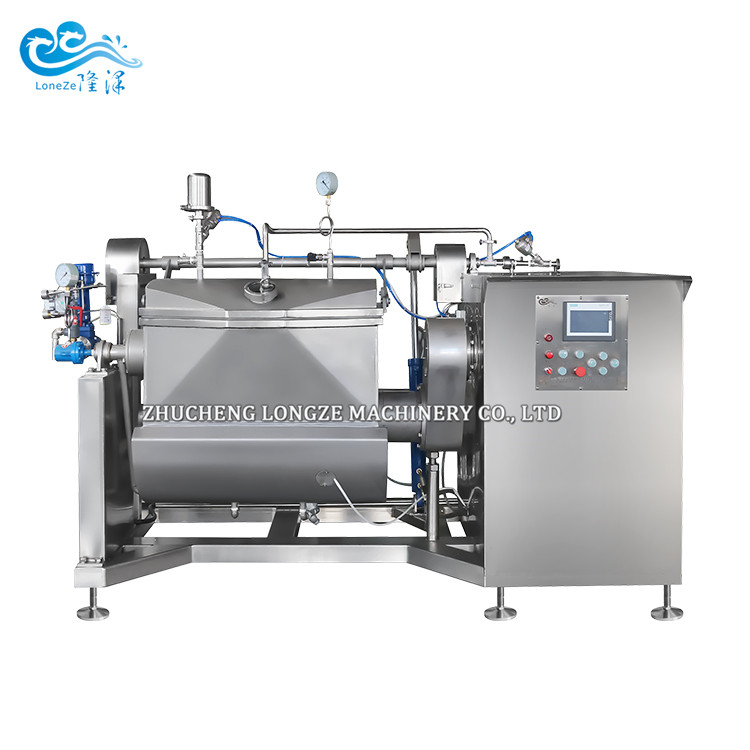 Longze machinery has been offering a wide range of food cooking mixers and Horizontal Mixer Machine for 10 years, they always make sure to meet each customer's cooking demands.
Food Used Tilting Type Automatic 500L Industrial Food Horizontal Mixer Machine/Stainless Steel Horizontal Mixer Machine
The Food Used Tilting Type Automatic 200L Industrial Cooking Mixer Machine is made of stainless steel, automatic cooking mixer, from 300L to 800L, with CE approval.
Detailed Photos of 500L Industrial Electric Cooking Pot/Stainless Steel Gas Jacketed Kettle Mixer
Introduction of 500L Industrial Electric Cooking Pot/Stainless Steel Gas Jacketed Kettle Mixer:
1.From the heating type, it can be divided into steam heating(steam as a heat source), gas heating(LPG or natural gas as a heat source), gas heat transfer oil and electric heat transfer oil(heat transfer oil as a heat source).
2.From the material, it can be divided into all-steel type(all made of stainless steel),
all-steel B-type( pot body and jacket are made of stainless steel, the frame and legs are made of carbon steel.
3. The vertical Jacketed kettle consists of pot body, vertical supporting legs, stirring system, heating system, transmission device, stirring shaft, hydrolytic system and so on.
4.From the structure,Automatic 500L Industrial Cooking Mixer Machine can be divided into vertical, vertical mixing, tilting and tilting mixing.
Detailed Images: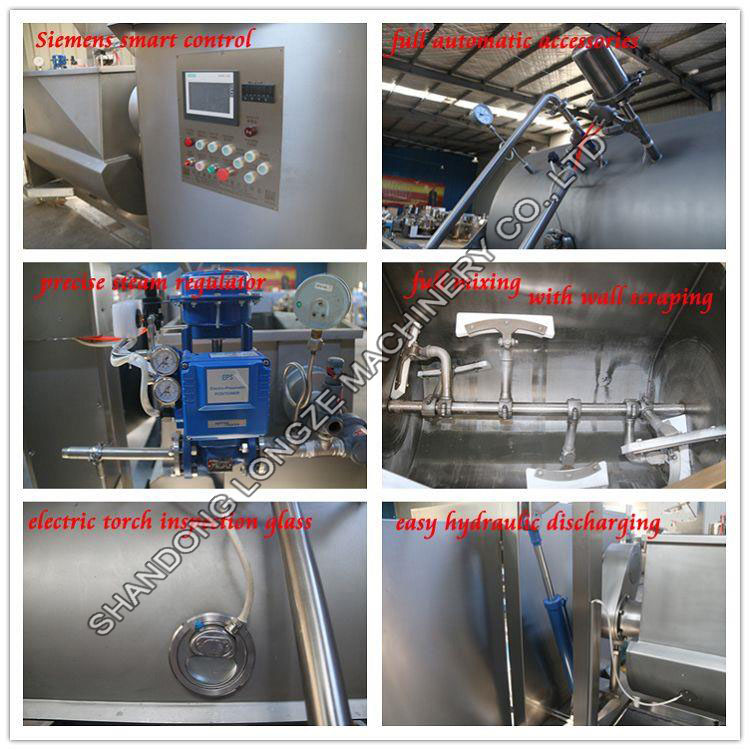 High Efficient Processing Equipments & First-Class Handcraft:
We have been improving these years from small scale manufacturing machines to big advanced laser machines, NC machines, etc. With the aid of these helpful machinery, we have dramatically improved quality of products and increased productivity to satisfy our customers' demand of big order.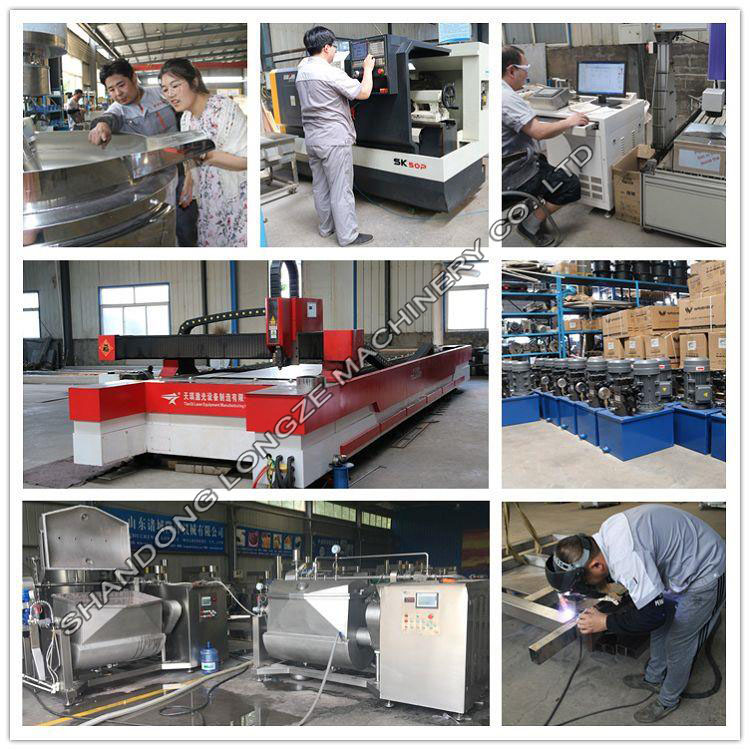 Packaging & Shipment:
To ensure our smooth delivery to customers, we have set up our own Logistics Department for direct arrangement after machines are accepted by our Quality Control Department. We apply good quality plywood in accordance with international standard for wooden packaging for safe overseas shipment across the world. We have never received any complaint regarding shipment issue.
Customers' Visiting & Testing:
For visiting customers, our company will arrange local transportation and accommodations, and provide necessary materials for testing with our machines. We have various types of horizontal cooking mixer machine available for customers' testing in our factory.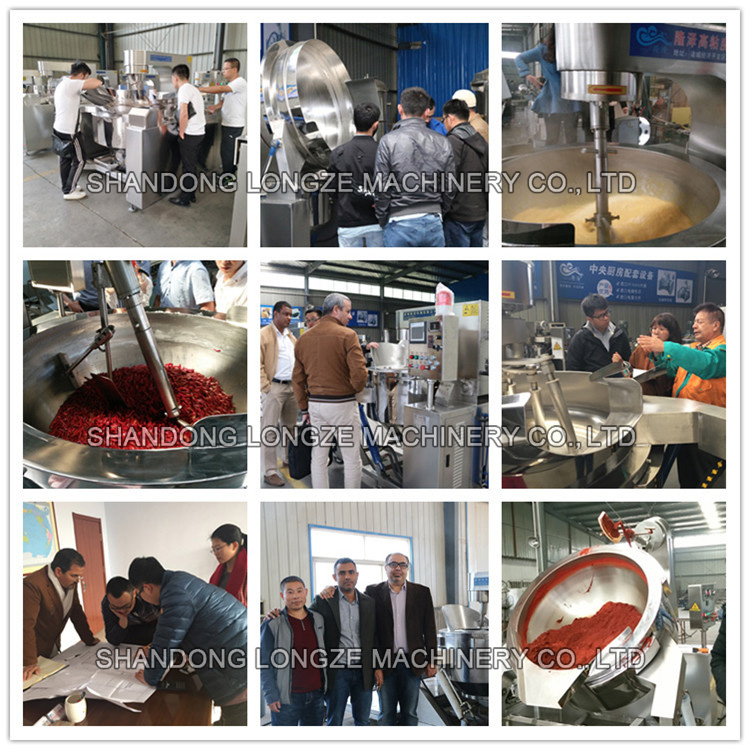 Certifications & Patents:
Our products are CE & BV certified with 12 Nos. patents. We have also obtained many honors for our products by government authorities, due to their safe operation and outstanding quality.
Shandong Longze Machinery Co., Ltd. ("Longze Machinery" in short), officially established in 2012, based in Zhucheng City, Weifang, Shandong Province, China, is a professional manufacturer of cooking and mixing machinery for food and snacks, including industrial popcorn machine, planetary cooking mixer, jacketed kettle, pressure/vacuum cooker, which are universal to make spices, chili sauce, curry sauce, fruit jam, sweets, Halva, paste, nougat, candied fruits, coated nuts, fillings, vegetables, meat------
Shandong Longze Machinery Co.,Ltd
Company website:https://www.firemixer.com/
WhatsApp/Wechat:+86 13153609533
E-mail:longzemachinery2@gmail.com
Address:Zhucheng Economic Development Zone, Shandong Province, the first five lines west