Fully automatic new jacketed kettle cooker mixer , can fry vegetables, condiments, (sauce, sauce) and medicinal baking, etc. According to the requirements of different production processes, the material weight and temperature, mixing speed, heating time and gas volume can be precisely adjusted and designed to ensure product quality.
1. The commercial jacketed cooking mixer pot is a tiltable jacketed kettle pot, which solves the problem of difficult to discharge and difficult to clean when mixing.
3. The bottom scraping mixing system completely solves the problem of not destroying the nutritional components of high-viscosity materials and reaches the green environmental protection standard. It is an ideal choice for food manufacturers.
4. The pot body of the stainless steel steam jacketed kettle can be tilted, and it can be operated fully automatically to improve production efficiency. It is widely used in meat products, fried stuffing, sauces, prepared foods, candy, pharmaceuticals, dairy products, beverages, cans, and can also be used for porridge boiling water and rice cooking in large restaurants or canteens.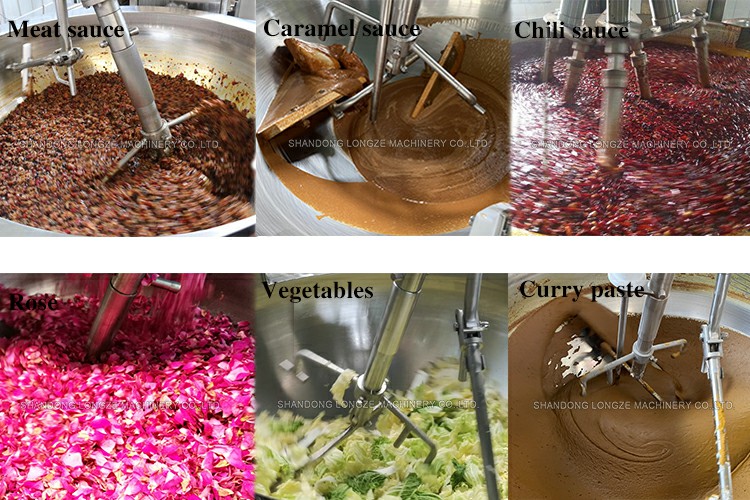 Longze Machinery sells Industrial cooking mixer machine, commercial cooking mixer machine, food cooking mixer machine, sauce cooking mixer machine, chili sauce cooking mixer machine, tiltable cooking mixer machine, jacketed kettle, automatic cooking mixer machine, semi-auto cooking mixer machine, electromagnetic cooking mixer, gas cooking mixer, steam cooking mixer machine etc.Welcome to contact us.
Shandong Longze Machinery Co.,Ltd
Company website:https://www.firemixer.com/
WhatsApp/Wechat:0086 13153609533
E-mail:longzemachinery2@gmail.com
Address:Zhucheng Economic Development Zone, Shandong Province, the first five lines west
If you have any question you can contact me ,i can give you the lowest discount.