Commercial food cooking mixer machine equipment has its own insulation layer, which heats up quickly and saves energy. Thereby increasing the output. The automatic discharging system adopts circuit control, which is more convenient to use.
The food wok has two characteristics: automatic stirring-cooking and tilting out of the pan.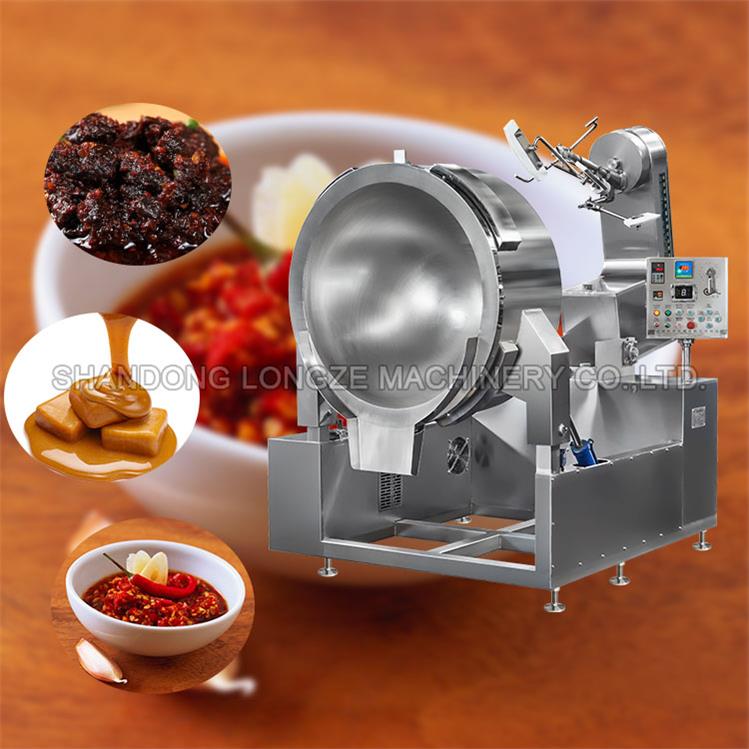 The best commercial food cooking mixers is an industrial tilting stirring cooking mixer kettle, which solves the problem of difficult discharging and difficult cleaning, and is in a leading position in the domestic industry.
1. The automatic food cooking machine has its own heat preservation, which heats up quickly and saves energy. Thereby increasing the output.
2. Longze's large-scale automatic cooking machine adopts multi-hydraulic cylinder transmission for the overturning of the pot body and the lifting of the stirrer, which makes the operation more stable and reliable.
3. Heating system: Longze cooking mixers machine adopts steam, gas, electric heating heat conduction oil, electromagnetic heating and other heating methods for customers to choose from.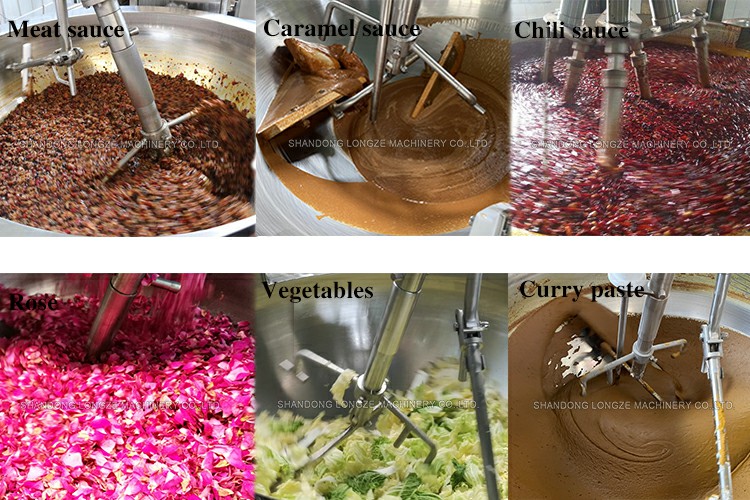 Applicable scope of automatic cooking machine:
1. A series of equipment for the production of instant noodles, instant rice noodles, instant vermicelli, hot pot base ingredients, and chili sauce.
2. The self-turning and tilting frying pan of the electromagnetic cooking machine can fry various sauces and granular materials.
3. Commercial food cooking mixer wok can be used for cooking chili sauce, pepper, beef, seafood, etc.
4. Food cooking kettle with mixer used for automatic production line of beef sauce, braised chili sauce, hot pot base, sauce, mushroom sauce, curry chili sauce.
Longze Machinery sells Industrial cooking mixer machine, commercial cooking mixer machine, food cooking mixer machine, sauce cooking mixer machine, chili sauce cooking mixer machine, tiltable cooking mixer machine, jacketed kettle, automatic cooking mixer machine, semi-auto cooking mixer machine, electromagnetic cooking mixer, gas cooking mixer, steam cooking mixer machine etc.Welcome to contact us.
Shandong Longze Machinery Co.,Ltd
Company website:https://www.firemixer.com/
WhatsApp/Wechat:0086 13153609533
E-mail:longzemachinery2@gmail.com
Address:Zhucheng Economic Development Zone, Shandong Province, the first five lines west
If you have any question you can contact me ,i can give you the lowest discount.