Commercial tilting automatic cooking mixers has a variety of heating methods: gas, steam, electric heat transfer oil, electromagnetic and other heating methods can be customized. Electromagnetic heating is a trend, environmental protection and safety, the temperature is always controllable, the heating speed can be adjusted as you like, and the tiltable cooking mixing kettle is suitable for any material and any process.
The tiltable automatic cooking mixing kettle has the two major characteristics of automatic frying and tilting out of the pan. The planetary stirring adopts a stepless frequency converter to mix the high-viscosity products evenly, heating to increase the heat, and the surface of the frying pan does not need to be coated. Make the cooked food non-stick pan. Commercial tilting cooking mixer machine is not only suitable for cooking, but also suitable for frying (or stirring) vegetables, minced meat, condiments, bean paste, etc. tiltable cooking mixing kettle is often used in catering, food processing and other industries.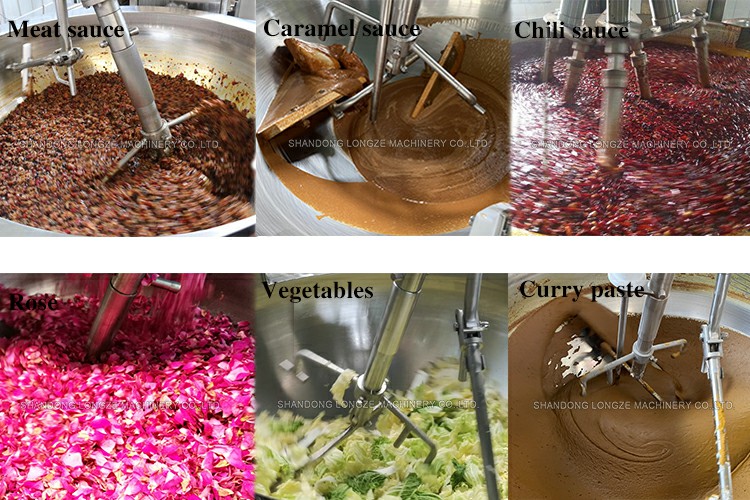 Longze Machinery sells Industrial cooking mixer machine, commercial cooking mixer machine, food cooking mixer machine, sauce cooking mixer machine, chili sauce cooking mixer machine, tiltable cooking mixer machine, jacketed kettle, automatic cooking mixer machine, semi-auto cooking mixer machine, electromagnetic cooking mixer, gas cooking mixer, steam cooking mixer machine etc.Welcome to contact us.
Shandong Longze Machinery Co.,Ltd
Company website:https://www.firemixer.com/
WhatsApp/Wechat:0086 13153609533
E-mail:longzemachinery2@gmail.com
Address:Zhucheng Economic Development Zone, Shandong Province, the first five lines west
If you have any question you can contact me ,i can give you the lowest discount.