Steam Heated Food Jacketed Kettle with steam as the heat source, and has a large heating area, high thermal efficiency, materials heat up fast, uniform heating and the heating temperature easy to control and so on. Widely used in candy, pastries, soft drinks, canned Fruit juice, jam, preserves, dairy and food processing and brewing, wine making, such as pharmaceutical and chemical industries, as the material dissolves, disinfection, heating, blanching, cooking, preparation, boil, cooking and enrichment purposes.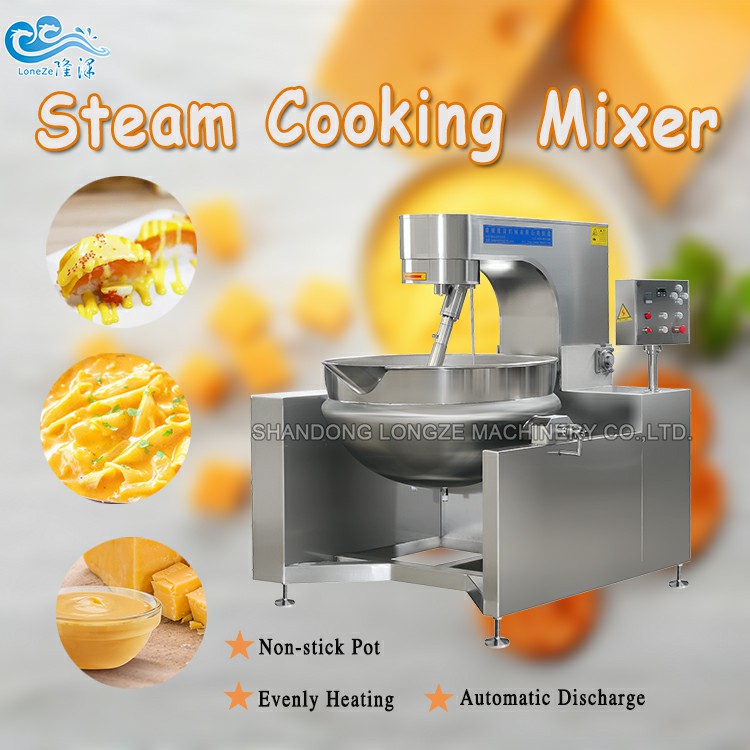 At the same time, Food Jacketed Kettle also applies to large hotels, hotels, hotels, guest houses, restaurants, industrial and mining enterprises, units, institutions canteens, as a boiled porridge, stew, cooking, cooking and stewing of Meat dumplings. For many years, majority of users agree that this product is actually improving the product quality, shorter working hours and better working conditions for excellent food equipment.
1.The steam portion is made up of universal ball head and a pipe, pressure gauge, safety valve installed in the back of the body.
4.Tilting frame is made up of oil cups, bearing housings, brackets, etc.
5.This device is a series, mainly composed of body, inlet, drainage, tipping pots and other components.
6.The body parts are body outside welded together. Inner body made of 06Cr19Ni10 stainless steel, the outer body made of 06Cr19Ni10 stainless steel. The structure of full penetration welding is required by GB150-1998.