This Commercial Nuts Frying Processing Machine production line aims to help customers to increase productivity while decreasing time and manpower cost. Commercial Nuts Frying Processing Machine is widely used for frying and coating all kinds of nuts including peanuts, walnuts, almond, cashew nuts, etc. in snack food industry. Frying Processing Machine runs fully automatically with control panel, very easy to operate.
-Industrial cooking mixer machine: it is customizable for various size and capacity, heated by gas or electric induction. This part is for frying nuts with oil to make them crispy with nice taste, and for coating with glucose. The cooker is universal to cook all kinds of food and snacks.
Frying Processing Machine Main Features
1) All Frying Processing Machines are made of stainless steel 304, internationally recognized steel for cooking food materials, durable and easy to clean.
2) All machines run automatically by buttons on the control panel, easy to control.
3) Cooker is equipped with planetary mixer to ensure thorough mixing , and avoid burnt or deposit.
4) Scrapers are made of thick T eflon material, endurable under high temperature and anti-corrosion. Side scraper helps to clean splashes on the higher level in the pot.
5) Variable mixing speed can satisfy different cooking process, with max. 50rpm.
6) Frying Processing Machines various heating method can be selected. High efficient burner can save more gas and environmental.
7) Cooking bowl titled to 90° hydraulically to allow easy discharge of food materials
8) Oil collection cart can pump oil back into cooker for recycle use thus make the process easier and cost saving.
9) Drum mixer is designed with stoppers inside to ensure material can actually roll to ensure thorough coating.
10) Variable rotation speed clockwise and anticlockwise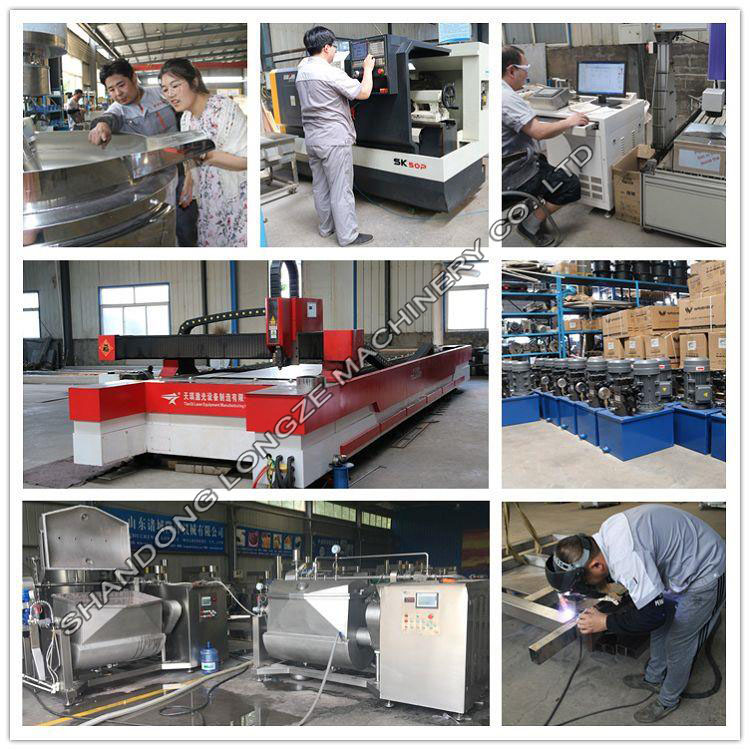 Pre-Sales Services:
To elaborate functions and features of inquired machines.
To help customers study and understand market situation.
To provide economical and practical cooking solutions.
To design and tailor as per customers' requirements.
To provide transportation and accommodations for customers' visit.
To supply raw materials free of charge for witness testing.
After-Sales Services:
To test repeatedly before packing and shipping to ensure its functional operation.
To ship and deliver as agreed and scheduled.
To assign experienced technicians for machine installation on-site if required so.
To provide promptly trouble-shooting solutions by telephone or email if any questions.
To provide 1 year warranty and lifetime maintenance for all products.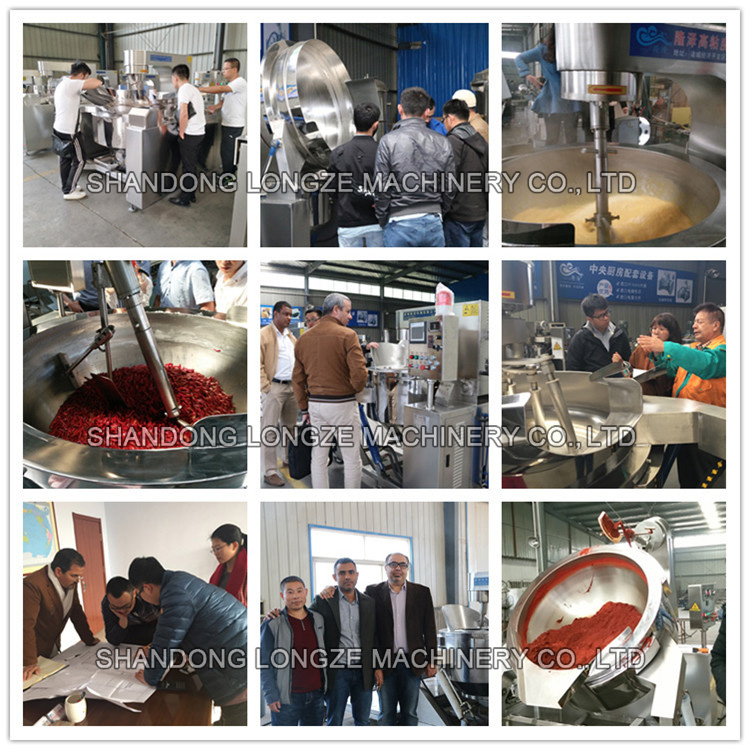 Our company has own logistics team and possesses all kinds of transportation vehicles and loading equipments including big lorry,half lorry, mobile crane, forklift, etc. Every day we have large quantity of machines loaded and delivered to our customers strictly following the agreed schedule. Our quality logistics services satisfy our customers and have earned us many regular customers.
Customers' Visiting & Testing:
For visiting customers, our company will arrange local transportation and accommodations, and provide necessary materials for testing with our machines. We have various types of machines available for customers' testing in our factory.
Shandong Longze Machinery Co., Ltd. ("Longze Machinery" in short), officially established in 2012, based in Zhucheng City, Weifang, Shandong Province, China, is a professional manufacturer of cooking and mixing machinery for food and snacks, including industrial popcorn machine, planetary cooking mixer, jacketed kettle, pressure/vacuum cooker, which are universal to make spices, chili sauce, curry sauce, fruit jam, sweets, Halva, paste, nougat, candied fruits, coated nuts, fillings, vegetables, meat------