Industrial Pressure Cooker/High Pressure Cooking Kettle
Writer:www.firemixer.com Time:2022-12-20 15:33 Browse:℃
Industrial Pressure Cooker/High Pressure Cooking Kettle
Cooking Kettle is divided into sealed high-pressure cooking and sealed normal pressure cooking pot. High Pressure Cooking Pot is consists of the pot body and bracket arms. The pot body adopts a vertical structure consists of upper and lower oval cover, tube body, flange group, bracket arms and heat preservation layer.
Widely used for kinds of food processing, can also be used in large restaurant or dining room to boil soup, cook, stew, boil porridge, etc. Blender is available as customers' requests.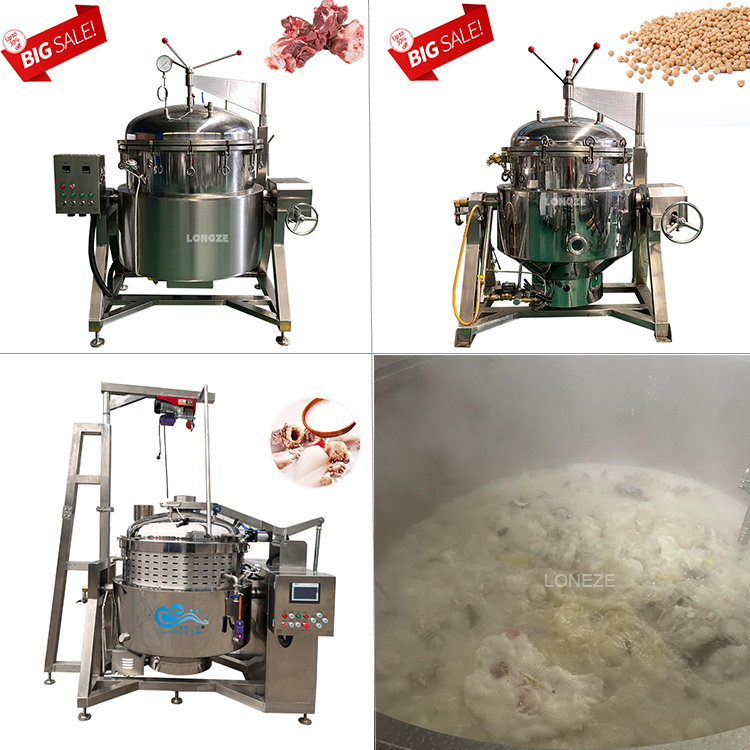 Cooking Time: according to the nature of raw material
Opening-cover Type: lift type
Working Pressure: ≤0.095Mpa
Heating Type: Gas heating,Electric heating, thermal oil heating,Steam heating.
Backed with leading–edge technology and experienced professionals, we are offering an extensive range of Industrial Pressure Cooker. The offered cooker is meticulously tested on various quality parameters and is widely demanded in food processing industry. Provided range is manufactured by utilizing optimum.
Primarily used in the food, dairy and beverage industry for soups, meat products, bean products, egg products, canned foods, pet foods, baby foods, processed sauces, pastes, gravies and other food products requiring cooking.
Jingye process vessels and kettles are designed for batch processing of food products by pressure, atmospheric, or vacuum cooking processes.
Our systems are an innovative solution for traditional cooking processes as well as providing flexibility to niche products and changes in recipes and food trends in the marketplace.
1) Pressure cooking helps retain the quality of the foods, by reducing the cooking time, by increased temperature (higher boiling point) inside the vessel and pressure which retains the particles within the product.
2) Cooking by pressure results in healthier and better tasting food, prepared in less time and with less energy.
3) Food quality and flavour retention is achieved as the vessel is sealed and pressurised during cooking. The vessel does not permit air or liquids to escape below a pre-set pressure.
4) Makes excellent sauces after sautéing by dissolving products of caramelisation and mallaird reaction. Works well with foods that require water infusion/braising methods
5) Higher temperatures are more effective at killing bacteria.
If you would like to see the Industrial Pressure Cooker, we could schedule a video call so that I can show it to you directly.