Cheese Sauce Cooking Mixer Machine Product Introduction
1.The High Capacity Cheese Sauce Cooking Mixer Machine is made of 304 stainless steel both inside and outside and have smooth and shiny appearance.
2.It can be manually tilted by using a handle on the side or tilted automatically making it easier and safer to pour the materials into the pot.
3.Generally the Automatic planetary cooking mixer stirring pot is equipped with pressure gauge, temperature sensor, steam inlet, steam outlet, steam trap and safety valve.
High Capacity Cheese Sauce Cooking Mixer Machine Features
2. High heating efficiency;
4. Fast heating speed, short liquid material boiling time;
5. Safe to use, convenient to operate, widely to use;
6.The Capacity Cheese Sauce Cooking Mixer Machine Jacketed Kettle With agitator can match with the pot body accurately, this will avoid pasting during mixing and heating.
7.Easy to install and operate;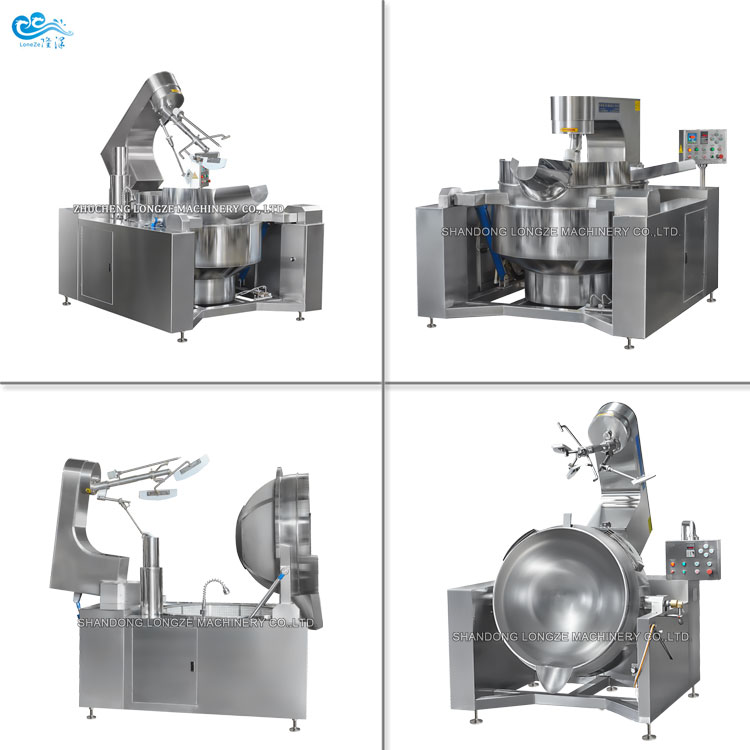 Cheese Sauce Cooking Jacketed Kettle Application
1.boiling water, soup,oil
2.firing dish,sugaring, gluing, boiling
3.cooking porridge, rice, noodles, dried bamboo shoot, etc
4.cooking firing fillings (such as bean-paste, lotus paste, moon cake, mung bean paste)
5.cooking braised food (such as dried bean curd, meat product, green, etc.)
6.braising food (such as chicken feet, chicken wing, spiced eggs, duck feet, duck neck, pig ear, etc.)
7.soybean sauce and other food industries.
Advanced Manufacturing Machinery And Techniques:
We are proud of our staff, who are responsible and with rich experience. Combination with our staff first-class skill and the aid of our big scale laser machines, our products are highly commented by our customers and thereby help us earn more regular customers.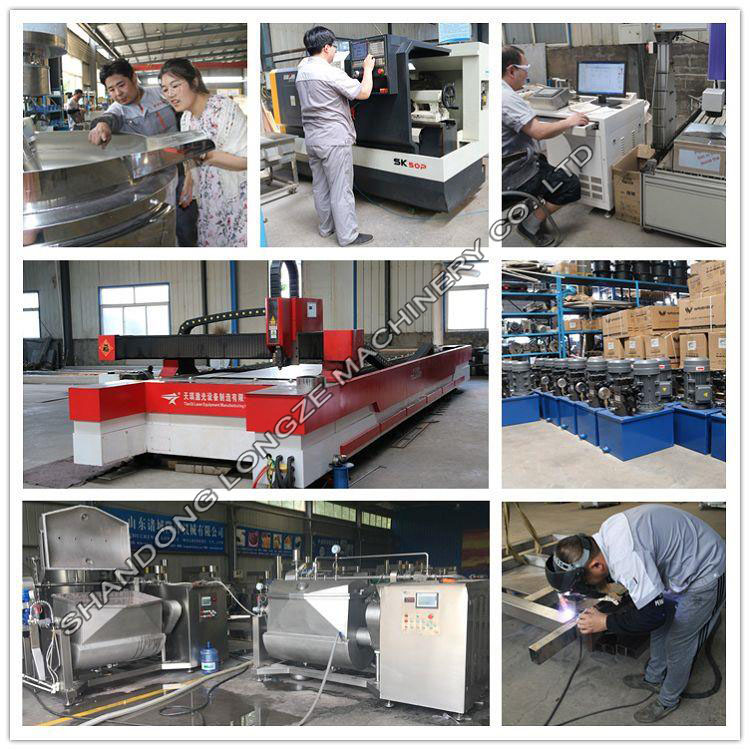 Our machine is packaged in wooden box for overseas shipment, and inside is also protected for easily damaged parts. Wooden box is strong enough and we have not encountered any shipment accident.
We have shipment every day and have our own logistics department for handling packaging and delivery, to ensure on-time delivery safely without any delay.
Customers' Visiting & Testing:
For visiting customers, our company will arrange local transportation and accommodations, and provide necessary materials for testing with our machines. We have various types of machines available for customers' testing in our factory.
Shandong Longze Machinery Co., Ltd. ("Longze Machinery" in short), officially established in 2012, based in Zhucheng City, Weifang, Shandong Province, China, is a professional manufacturer of cooking and mixing machinery for food and snacks, including industrial popcorn machine, planetary cooking mixer, jacketed kettle, pressure/vacuum cooker, which are universal to make spices, chili sauce, curry sauce, fruit jam, sweets, Halva, paste, nougat, candied fruits, coated nuts, fillings, vegetables, meat------
Shandong Longze Machinery Co.,Ltd
Company website:https://www.firemixer.com/
WhatsApp/Wechat:+86 13153609533
Company Phone: +86-536-6503337
E-mail:longzemachinery2@gmail.com
Address:Zhucheng Economic Development Zone, Shandong Province, the first five lines west