We provide universal industrial cooking mixer machine with different capacity 100L-800L and with different heating sources. Our food cooking mixer machine has been repeatedly tested in our factory to achieve its best operation and function.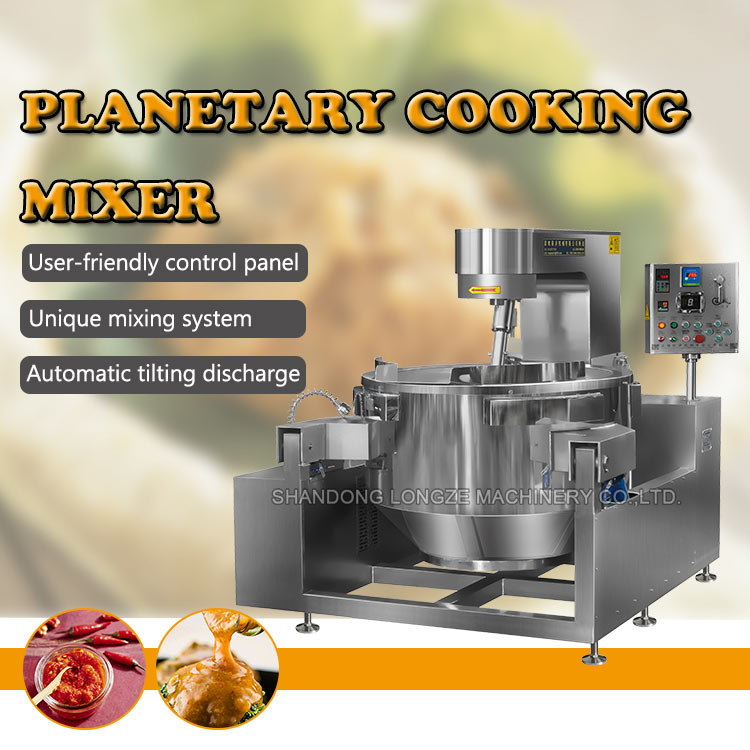 Our automatic mixer cooking kettle machines are designed with planetary mixing system to thoroughly mix all materials in the pot, without any missing point. It's positioned steadily while the mixing is even at the maximum speed.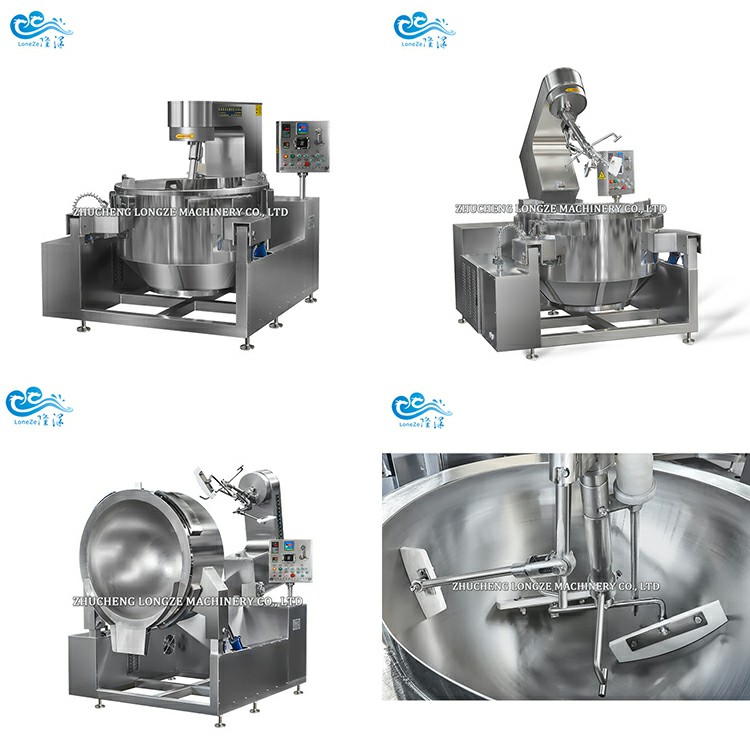 Automatic Cooking Mixer Main Features:
1) Mixing head is sealed for waterproofing, and maintenance-free for over 5 years.
2) Mixing arm tilted backwards automatically before discharging.
3) Cooking bowl titled to 90° hydraulically to allow easy discharge of food materials.
4) Stable while in operation and movable with heavy duty casters.
5) Wide application for all kinds of food or snack stuff.
6) Safe operation with automatic pressure release valve, thick steel reliable under pressure.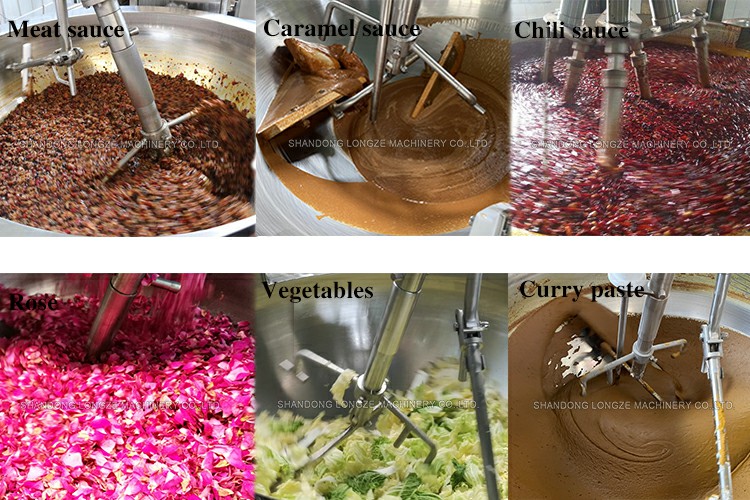 7) Fully automatic with user-friendly control panel.
8) High capacity volume upto 800 Liters.
9) All stainless steel 304, durable and easy to clean, healthy for food materials.
10) Planetary mixing system enables fully mix inside the bowl and without any missing.
11) Thick steel material strong enough to hold the body stable without shaking while mixing with max. speed.

12) Heating temperature is easily monitored and controlled on the panel with wireless devices or direct detecting.
13) Variable mixing speed to satisfy various processing procedures.
14) Teflon scrapers durable under high temperature, non-sticky and anti-corrosion, pressed tight to the surface of the bowl with strong spring. With side scraper to clean splashes on the higher level in the bowl.

All our mixer cooking machiens' full body is made up of stainless steel 304, world recognized suitable and healthy steel for food materials, except for electric and hydraulic parts. Almost all parts are fabricated in our factory with laser machines to ensure their accuracy and compatibility with each other and thus reduce occurrence of breakdown.

Longze Machinery sells automatic popcorn machines, caramel popcorn machines, commercial popcorn machines, industrial popcorn machines, electromagnetic popcorn machines, gas popcorn machines, large popcorn machines, popcorn production lines, popcorn processing lines, etc. Machine, welcome to contact us.
Shandong Longze Machinery Co.,Ltd
Company website:https://www.firemixer.com/
WhatsApp/Wechat:0086 13153609533
E-mail:longzemachinery2@gmail.com
Address:Zhucheng Economic Development Zone, Shandong Province, the first five lines west
If you have any question you can contact me ,i can give you the lowest discount.