Does The Industrial High Pressure Cooking Pot Comes With Its Own Heat Source?
Writer:www.firemixer.com Time:2021-09-10 15:06 Browse:℃
Does The Industrial High Pressure Cooking Pot Comes With Its Own Heat Source?
Ordinary household pressure cookers are available in different capacities for cooking larger or smaller amounts, with 6 litres' capacity being common. The maximum capacity of food is less than the advertised capacity because pressure cookers can only be filled up to 2/3 full, depending on ingredients and liquid (see Safety features section).
Our Industrial Pressure Cooker Pot equipment has different capacities and different heating methods. For example, we have different capacities of 200-800L. The Industrial High Pressure Cooking Pot heating methods include gas, electric heating, steam heating, heat transfer oil heating, etc.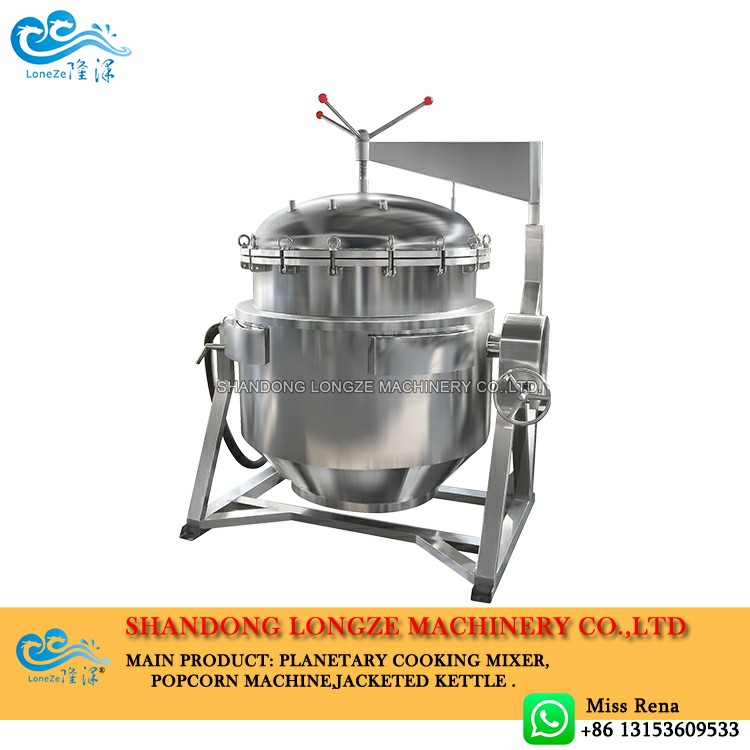 Trivet for keeping the steamer basket above liquid
Metal divider, for separating different foods in the steamer basket e.g. vegetables
Pressure cookers are typically made of aluminum (aluminium) or stainless steel. Aluminum pressure cookers may be stamped, polished, or anodized, but all are unsuitable for the dishwasher. They are cheaper, but the aluminum is reactive to acidic foods, whose flavors are changed in the reactions, and less durable than stainless steel pressure cookers.
Higher-quality Longze machinery stainless steel industrial pressure cookers are made with heavy, three-layer, or copper-clad bottoms (heat spreader) for uniform heating because stainless steel has lower thermal conductivity. Most modern stainless steel cookers are dishwasher safe, although some manufacturers may recommend washing by hand. Some pressure cookers have a non-stick interior.
A gasket or sealing ring, made from either rubber or silicone, forms a gas-tight seal that does not allow air or steam to escape between the lid and pan. Normally, the only way steam can escape is through a regulator on the lid while the cooker is pressurized. If the regulator becomes blocked, a safety valve provides a backup escape route for steam.
To seal the gasket there are several main methods used. Each determines the design of the pressure cooker:
The twist-on design has slots on the lid engaging with flanges on the body, similar to a lid on a glass jar, that works by placing the lid on the pot and twisting it about 30° to lock it in place. A common modern design, it has easily implemented locking features that prevent the removal of the lid while under pressure.
The center screw design has a bar that is slotted in place over the lid and a screw tightened downward to hold the lid on. Though an older design, it is still produced due to its ease of construction and simplicity.
The bolt-down design has flanges on both its lid and its body for bolts to be passed through, and usually uses wingnuts that hinge on the body and so are never fully removed from the cooker; this sealing design is typically used for larger units such as canning retorts and autoclaves. It is very simple to produce, and it can seal with simple and inexpensive gaskets.
The internally fitted lid design employs an oval lid that is placed inside and presses outward; the user inserts the lid at an angle, then turns the lid to align it with the pot opening on top because the lid is larger than the opening. A spring arrangement holds the lid in place until the pressure forms and holds the lid tightly against the body, preventing removal until the pressure is released.
Because of the forces that pressure cookers must withstand, they are usually heavier than conventional pots of similar size.
Shandong Longze Machinery Co.,Ltd
Company website:https://www.firemixer.com/
WhatsApp/Wechat:0086 13153609533
Address:Zhucheng Economic Development Zone, Shandong Province, the first five lines west
If you have any question you can contact me ,i can give you the lowest discount.