Nuts Almond Almond Wood Sugar Coated Frying Machine
Writer:www.firemixer.com Time:2021-03-17 10:38 Browse:℃
nuts almond almond wood sugar coated frying machine
Altar wood hanging sugar frying machine structure
The main composition of the altar frying machine: nuts coated frying machine This equipment is mainly composed of a pot body, a base, an electric heating tube, a tilting, a stirring arm, and a frame. The pot body is all made of SUS304 stainless steel, and the outer pot body is welded with an oil injection port and a liquid level valve. The heating part is composed of multiple groups of electric heating tubes.
The tiltable part of the amber peach kernel and nuts full-automatic frying and sugar-coating machine is composed of a worm gear, a worm, a hand wheel and a bearing seat. The mixing method adopts a special inclined planetary stir-fry (imitating manual stir-frying). The nuts hanging sugar equipment manufacturer uses a stirrer to reach full contact with the pot body. The peanuts sugar coating machine realizes an integer transmission ratio of transmission revolution and rotation. , To ensure that there are no dead corners in the pot, and the material is evenly stirred and does not stick to the pot.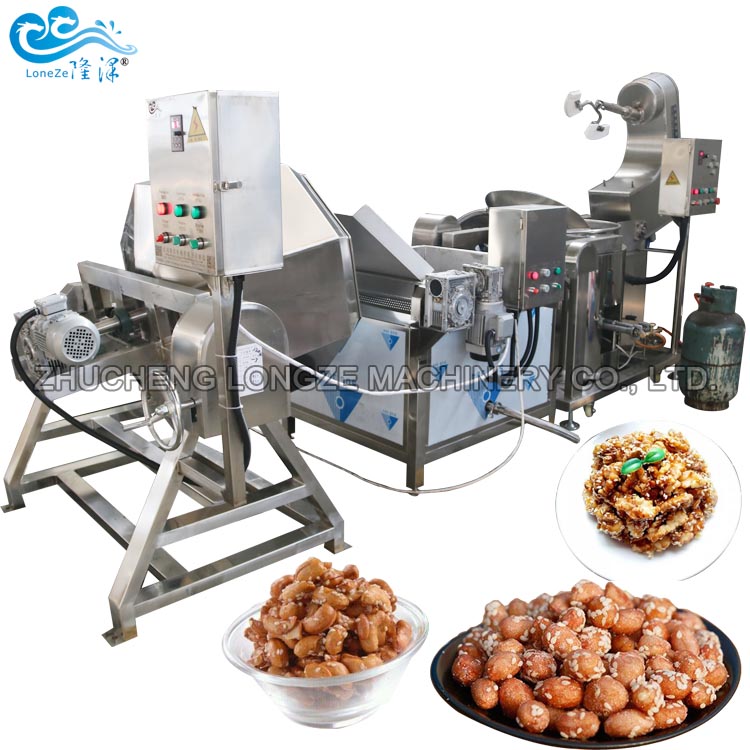 Constant temperature continuous production: to ensure that the temperature of the food is consistent. The automatic operation of the cashew nuts frying and sugar-coating machine produced by Longze Machinery effectively saves manpower for the enterprise, increases the yield and reduces the production cost. Constant temperature continuous production: to ensure that the temperature of the food is consistent. Product structure of full-automatic fryer: Advantages of full-automatic fryer: Equipped with high-efficiency burner: fast temperature rise and high production efficiency. The overall roundness error is small, the blender and the pot body have a high degree of adherence, the peanuts nuts coating machine, the honey peanuts stirring and sugaring cooking mixer, to avoid the phenomenon of pot sticking.


1. The pot body of the nuts coating and frying machine is a world-class one-step stamping and forming hemispherical stainless steel pan.
2. Various heating forms such as gas, electric heating, heat transfer oil, electromagnetic heating, etc. are available for customers to choose from.
3. Use advanced rotating and sealing structure to make the pot clean, peanuts-wrapped sesame machine, hygienic.
4. Using frequency conversion speed control power, stable operation, the price of honey peanuts stirring pot can consult us.

Shandong Longze Machinery supplies a complete set of production equipment for sugared nuts such as crisp honey peanuts and amber peach kernels. If necessary, please contact us. Package education package, one-to-one technical training. The flavors are original, spicy, spicy, Taiwanese sweet plum, seaweed, and Taiwan red plum. Peanuts Wrapping Sesame Machine-nuts Hazelnuts Equipment-Peanuts Wrapping Sesame Machine Fryer is provided by Shandong Longze Machinery Co., Ltd.

Device model: LZQ-1200B
Pot diameter: 1200mm
Outer pot depth: 410mm
Inner frame: 480mm
Thickness: 4mm
Heating method: gas
Heating ignition method: automatic ignition
Mixing form: planetary/bottom scraping/side scraping
Output form: automatic output
Scope of application: nuts
Power requirement: 1.5kw
Power demand: 380V/50Hz
Pot body material machine: SUS304
Equipment weight: 600kg


Shandong Longze Machinery Co.,Ltd
Company website:https://www.firemixer.com/
WhatsApp/Wechat:0086 13153609533
E-mail:longzemachinery2@gmail.com
Address:Zhucheng Economic Development Zone, Shandong Province, the first five lines west
If you have any question you can contact me ,i can give you the lowest discount.