Condiment Production Cooking Mixer Machine Jacketed Kettle With Agitator
Writer:www.firemixer.com Time:2020-11-27 10:16 Browse:℃
Condiment Production Cooking Mixer Machine Jacketed Kettle With Agitator
Condiment Production Cooking Mixer Machine Main Features
●Cooking Mixer Machine professional technical support electromagnetic heating part adopts the professional infineon technology,trusted.
●stainless steel Cooking Mixer Machine pure stainless steel 304 heating ,is a domestic initiative,performance ,safe and reliable.
●energy saving no waste gas,no waste residue and noise pollution
●temperature control precision 0-350 degrees 8 file no gap coverage,temperature control will follow.
●safe use inductive heating and no danger of fire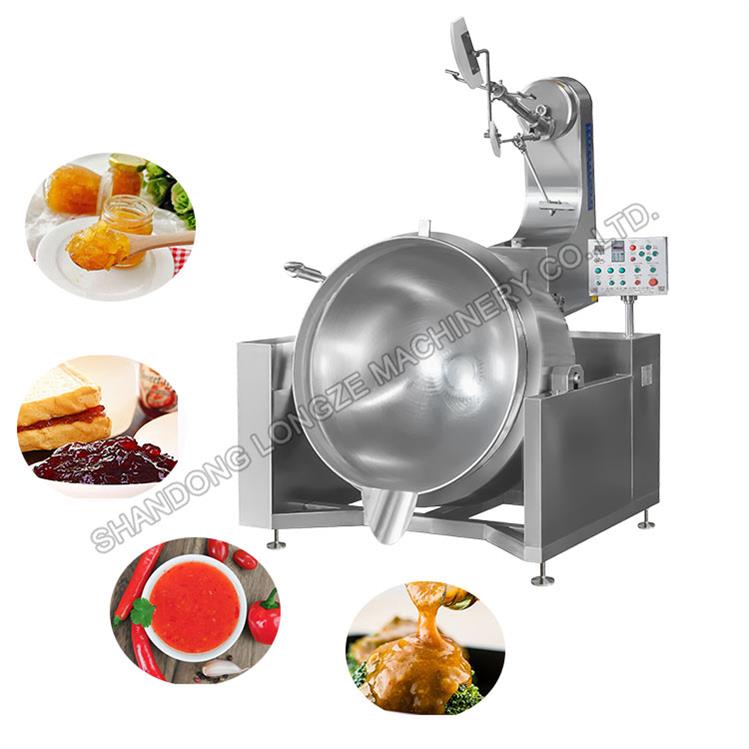 Condiment Production Cooking Mixer Machine Product overview
●This Condiment Production Cooking Mixer Machine Jacketed Kettle product is composed of electromagnetic heating system, pot body, frame body, stirring system, speed control actuator, stirring shaft, the pot body turning system, etc.
●This Condiment Production Cooking Mixer Machine Jacketed Kettle series of automatic hydraulic equipments use the hydraulic thrust to flip the stirring arm, avoiding dismantling blender, and use hydraulic thrust one more time to tilting pot body, make the material is easy to in and out and save manpower.
●The stirring way use special tilting transmission , planet stirrer and the pot body full access, realize the transmission revolution and rotation of the integer ratio, make the pot without stirring blind angle.
●The whole production process is intelligent controlled by the German Siemens PLC and man-machine interface of automatic Germany Siemens touch screen. All production technological parameters can be inputted through PLC touch screen, it can be stored five groups of process parameters in advance, only need to bring up the required technical parameters when replace materials.
●Condiment Production Cooking Mixer Machine Jacketed Kettle Apply to the dining room, central kitchen, restaurant, food processing, baking, spices and other industries use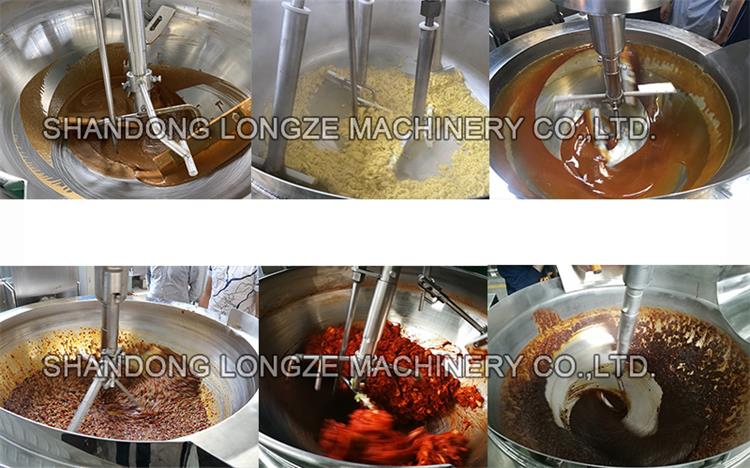 Condiment Production Cooking Mixer Machine Jacketed Kettle FAQ
1. Q: Can the logo or company name to be printed on the products or package?
A: Sure. Customer's logo or company name can be printed on products by stamping, printing, embossing, coating or sticker.
2. Q: Can I mix different models in one container?
A: Yes, different models can be mixed in one container, but the quantity of each model should not be less than MOQ.
3. Q: How does your factory do regarding quality control?
A: Quality is priority. We always attach great importance to quality control from the very beginning to the end of the production. Every product will be fully assembled and carefully tested before it's packed for shipment.
4. Q: What is your warranty terms?
A: We offer different warranty time for different products. Please contact with us for detailed warranty terms.
5. Q: Will you deliver the right goods as ordered? How can I trust you?
A: Yes, we will. The core of our company culture is honesty and credit. Also you can check our food cooking mixer machine website.
Shandong Longze Machinery Co.,Ltd
Company website:https://www.firemixer.com/
WhatsApp/Wechat:+86 13153609533
Company Phone: +86-536-6503337
E-mail:longzemachinery2@gmail.com
Address:Zhucheng Economic Development Zone, Shandong Province, the first five lines west