High Quality Automatic Vacuum Jacket Cooker For Candy And Fruit
Writer:www.firemixer.com Time:2020-11-21 15:50 Browse:℃
High Quality Automatic Vacuum Jacket Cooker For Candy And Fruit
Automatic Vacuum kettle machine is widely used in sugar infiltrated dried fruits for industrial purpose. Vacuum kettle machine large capacity upto 600L tilting type aims to increase efficiency for each batch within short time. The vacuum working environment maintains original fresh color of fruits and no damages to their nutrition, and can definitely decrease timing for saturation by 30% comparing with in normal working pressure.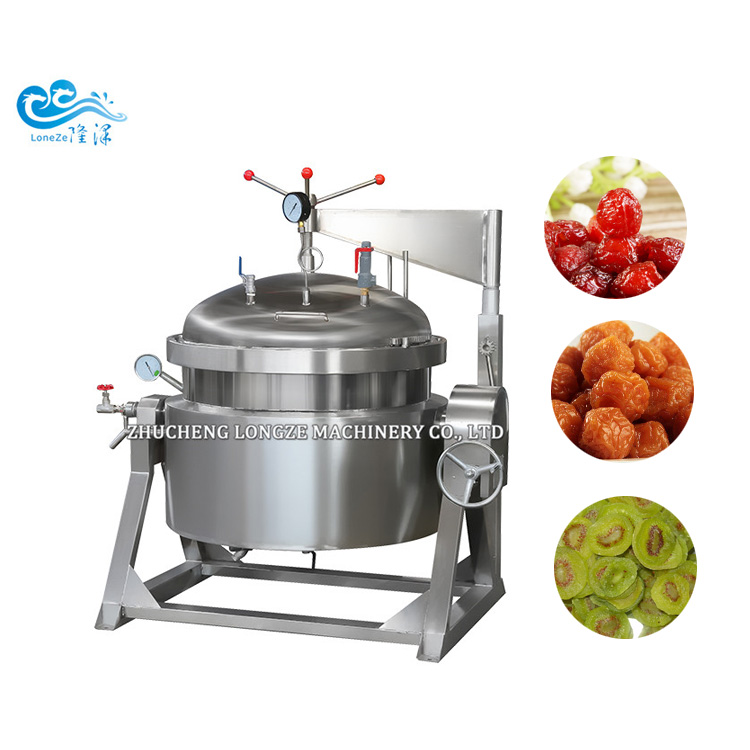 Vacuum kettle machine Main Features
◆High capacity upto 600L tilting type for industrial purpose, 1200L for fixed type.
◆Heating source can be thermal oil, steam, gas, electricity, etc.
◆Whole process under control of the control panel, easy to operate.
◆Vacuum kettle machine Furits get sugar infiltrated under vacuum low temperature condition.
◆Kettle cover turning easily for opening and closing.
◆Vacuum kettle machine Kettle body tilting 90 degrees for easy discharging of processed materials.
◆Full stainless 304 anti corrosion, without rust.
◆Temperature under easy monitoring and controlling
◆Powerful water circulated vacuum pump to decrease processing time
Vacuum pump is an integrated part of the system. In order to maintain required vacuum condition in a better way, we equip all our vacuum kettle machines with water circulation vacuum pump in different capacity as required by our customers.
Vacuum meter is calibrated precisely and can be adjusted easily the vacuum value. Reliable quality can work with the machine for a very long time.
Good quality pressure reducting valve to maintain setup vacuum value automatically, helping to shorten the heating process thus increasing productivity.
Everything is done automatically through the panel, including temperature control, heating power adjustment, power on/off, vacuum on/off, etc.
Only when the previous step is checked and signed, will the next step proceed. Then checklist bears signatures of all staff involved. Severe penalty will be imposed on the related staff if any quality problem is found.
All skillful workers are employed by passing strict exams to ensure first-class quality of each and every of our Vacuum kettle machine products, Which has gained for us many regular customers
Components made by laser machines
Almost all components except for electrical and hydraulical system are fabricated by our factory with laser machines, to ensure their accuracy and compatibility with each other, thus reduce occurrence of breakdown.
Shandong Longze Machinery Co.,Ltd
Company website:https://www.firemixer.com/
WhatsApp/Wechat:+86 13153609533
Company Phone: +86-536-6503337
E-mail:longzemachinery2@gmail.com
Address:Zhucheng Economic Development Zone, Shandong Province, the first five lines west